Our Process
Artwork to Textile Print Process
As fine artists, we first learned textile printing techniques from contemporary Pacific textile artist Jean Clarkson on Norfolk Island in 1996. Then in New Zealand in 1999, we applied our design skills to large, hand carved, printing blocks and produced our first run of hand printed Pili aloha shirts.
For the next 15 years, we created a handprinted and hand dyed line of aloha shirts with ancient Pacific tapa printing methods that integrated well with contemporary materials.
Developing extensive recipes of dye and printing ink colors along with assemblages of designs inspired by our own heritage stories and the Pacific region we offered 3 or 4 collections of Aloha shirts per year. Sometimes, we combined our individual artwork/prints together to create a collaborative design. We continue to use these techniques for producing our hand printed silks range available in our Honolulu store.
—Herman Pi'ikea Clark and Sue Pearson

Our Production House
We work with a production house in Thailand run by expert textile printers and handcrafters. These artisans truly appreciate the nuances of color, quality, line and texture that are so important to us.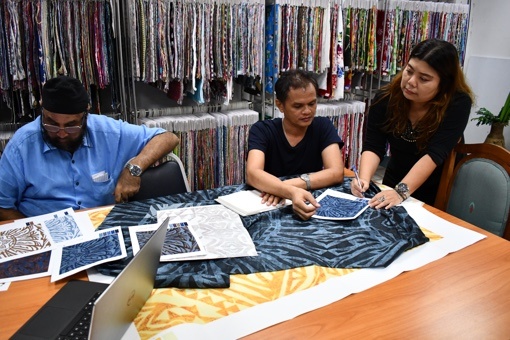 This enables us to develop new textile designs based on hand rendered fine art pieces or textile prints that are translated through the latest computer and printing technology. Scanning or photographing our original artworks, we then digitally alter them in a variety of ways. Each design is separated into up to 12 layers of color for printing and we often explore and test many different color combinations until making our final selection.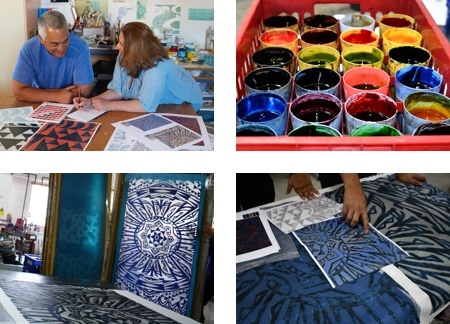 In the final stages of the process, our designs are applied to large-scale silkscreens that produce a series of colorways for each design. As the difference of printing on paper versus textiles is not an exact science, we depend on the expertise of a family of textile printers to achieve the right look. Once a colorway is approved, we are ready for production. Each colorway is printed in a small run of approx. 300 yards which results in a very special and a limited edition Pili Pacific product.

Production Process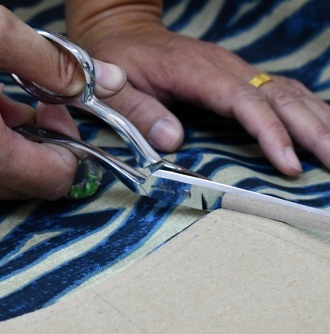 Custom Cutting
We design our Pili Collection to showcase each unique print. For this reason, we like to keep the lines of our clothing designs simple.
Our patterns are refined through multiple explorations of sampling until the moment we are happy with the final cut and fit of each item.
Our production garments are all hand cut from individually laid lengths of printed fabric. The placement of our large-scale designs are carefully controlled so each specific part of a print are positioned on a specific area of a garment. This involves much care and time in the cutting part of the process.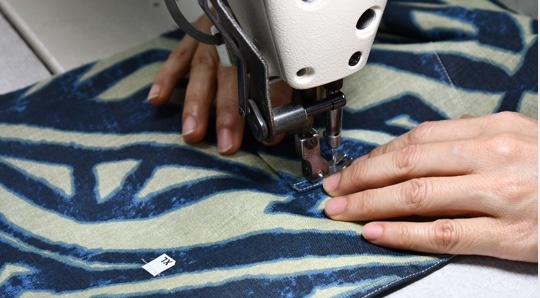 Sewing
Our production house has an important no-rush policy that enables us to maintain the highest level of quality, something that is very important to us. All Pili garments are sewn with care and precision by very experienced seamstresses and feature exceptional finishing techniques and tight stitching (14 stitches per inch).
Experienced Artisans
Our production house employs highly skilled and specialized workers, most of whom have 20–25 years of experience.
We have a team of 38 specialized workers working with materials such as linen and 12 working exclusively with our silk blend items.